Calathea Place - LOCATION
Calathea Place Is located at Dr. A Santos Ave., Brgy San Antonio, Sucat, Parañaque City.
Calathea Place is located where all the good things happen. Located in Paranaque city, this resort-type condominium is just along Sucat Road. This means it is very near the Makati Business District (Ayala Avenue), only twenty minutes away via the Skyway, and only 35 minutes away from Mall of Asia Complex in Pasay. This places a huge advantage to the homeowners, for the travel time allows them to maximize the time to spend with their family and enjoy the condominium's amenities with them.
Calathea Place is also very accessible from Ninoy Aquino International Airport from NAIA Road or the Skyway. Additionally, it is also accessible from the South Luzon Expressway (SLEX) through the Sucat Exit. Traveling and going on holidays has never been more convenient, for you can always come home with ease.
No car? No problem! This residential community is also very near to transport stations and terminals, that offer jeepneys and shuttle services to different parts of Metro Manila. The transportation services also operate 24 hours a day, 7 days a week which means you would never have to worry about getting home even late at night. The barangays and residences within the area are also composed of mainly the upper middle class section.
Calathea Place is also very near BF Homes Paranaque, Greenheights Village, and other exclusive subdivisions. It is also near malls and supermarkets (SM BF Paranaque and Puregold Sucat are just a stone's throw away if you need to do a quick shopping), schools (Maria Montessori Children's School is just nearby if you have a toddler that you would like to enroll, PATTS School of Aeronautics, as well as San Beda College Alabang are also just a short drive away), hospitals (Unihealth Paranaque is less than a kilometer away and Asian Hospital is really close by), and basically everywhere in the world through the airports.
Malls/Supermarket/Commercial
Puregold Sucat 0.7km
SM BF Parañaque 1.2km
SM Hypermarket 1.5km
Santana Grove 1.7km
Waltermart 1.8km
Virramall – Sucat 3.7km
SM City Sucat 3.9km
Festival Mall 8.8km
Alabang Town Center 8.9 km
Resort's World 11.6 km
Maria Montessori Children's School 0.9 km
Immaculate Heart Of Mary College 2.2 km
PATTS School of Aeronautics 2.3 km
Olivarez College 3.3 km
Southville International School 4.6 km
Manresa 4.9 km
San Beda College Alabang 7.6 km
U.P. Parañaque 7.1 km
University of Perpetual Help 8.0 km
Unihealth – Parañaque 0.45 km
Medical Center Parañaque 2.6 km
Olivarez Hospital 3.3 km
Las Piñas Doctors Hospital 4.7 km
University of Perpetual Help Medical Center 8.0 km
Asian Hospital 9.6 km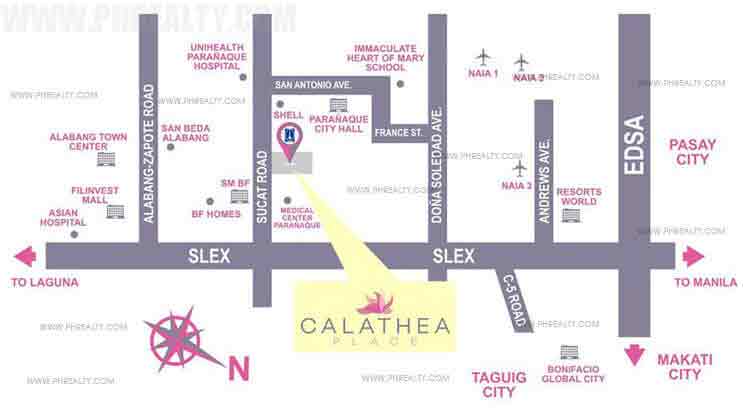 Real estate experts often advise homebuyers to check location carefully before deciding to buy a home. So why is location such an important aspect? Well, fixing up a place you'll call home in a safe & great neighborhood will give you the highest possible return on your investment. Besides that, you'll enjoy top security and peace of mind to go about your daily activities. Without such an environment, you will always live worrying about what will happen to you. Quite simply, location is a major factor you must consider when buying your home.
Calathea Place makes a good location especially if you are looking for a place you will live for many years. Apart from being near the facilities and amenities you need, it's also a place that's rising in value each day. If you have a plan to resell your home later, then this is the place you should consider. Moreover, getting a home here means you will enjoy a modern living space, get all the facilities you want and have ease when you want to sell your property later. You may not easily get another condo located perfectly in the best site. Calathea Place is near:
Restaurants:
Thai Fusion
I Love Milk tea
Galley Grill
Lido
Lots of pizza

Schools:
Montessori School
St. Francis Academy
Lycee D Saint C.Y.R.
Lycee D Regis Marie
Malls:
Dr. F.C. Santos Market
Otto
Uniwide
Amalingan Commercial Center

Hospitals:
Silverio Health Center
UNIHEALTH Paranaque
CaaD Health Center

Which other perfect location are you looking for yet you have a great place to call home now? Well, you need to take a step today and live to enjoy what's around this condo community. Once you are part and parcel of this community, you will not complain about the lack of any important facility. Everything will be within reach and just a matter of a few minutes from where you'll be living. It's not a coincidence that all these things are within reach from Calathea Place. It's the result of a careful choice of a place that deserves to be called home. Will you let this opportunity go? Well, the choice is yours, and you need to make a wise one. Don't keep postponing and end up missing. Your friends and colleagues are probably taking a step, and you need to emulate them.
Whether you are a seasoned home buyer or a new one, you don't need to be an expert to tell that Calathea Place is perfectly located in the great Dr. A Santos Avenue, Paranaque City. The whole area is full of open spaces good for families, resort-inspired amenities, and a secure environment. If you are a young pro, then don't live to wish to have such a home. The time is now, and you have what it takes to be a homeowner in Calathea Place. You only need to take the very first step, and things move smoothly for you. Once you get started, you'll realize that the process of becoming a homeowner here is, in fact, simpler than you thought.