Calathea Place Unveils Life's Simple Pleasure in Paranaque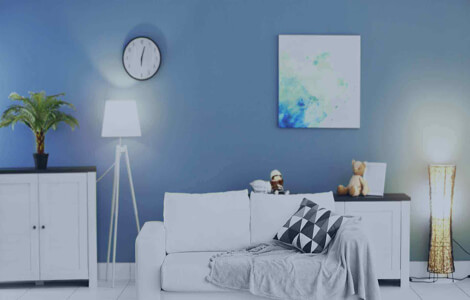 DMCI Homes, the Philippine's first property developer to be awarded a Quadruple-A license, offers yet another blooming edifice aptly called the Calathea Place - the latest DMCI Homes mid-rise condominium complex project along Sucat Road, Paranaque City. Calathea Place's masterplan includes two high-rise towers and two medium-rise buildings nestled in a vast 15,785-square meter secluded prime property.
A number of gated villages surrounds the Calathea Place. Demographics and statistics indicate that the vicinity is populated by mainly the upper middle class section of Sucat.
Calathea Place is accessible from South Luzon Express (SLEX) Route via Sucat Exit, from the West Service Road and the NAIA Road. All types of transportation ply the Dr. A Santos Avenue a.k.a Sucat Road. Transport services, like taxis, jeepneys and shuttle service buses to and from nearby commercial hubs industrial buildings, business establishments, dining places and the domestic and international airports, are available 24 hours daily.
Nearby Commercial Hubs
Waltermart
Virramall
Shopwise
Santana Grove
Resort's World
Puregold Sucat
Festival Mall
Alabang Town Center
Nearby Medical Centers
University of Perpetual Help Medical Center
Unihealth – Parañaque
Olivarez Hospital
Medical Center Parañaque
Asian Hospital
Nearby Educational Institutions
University of Perpetual Help
Southville International School
San Beda College Alabang
PATS School of Aeronautics
Polytechnic University of the Philippines
Olivarez College
Maria Montessori Children's School
Las Piñas Doctors Hospital
Immaculate Heart Of Mary College
Like all residential villages put up by DCMI Homes in Para?aque City (Siena Park Residences, Arista Place, Raya Gardens, Palm Grove and Asteria Residences) Calathea Place bears the quality seal that DMCI Homes is well known for. The vibrant culture of city living and the laid-back charm of Para?aque City are key factors that make Calathea Place appealing to accomplished professionals, like you, looking to own a special place to permanently settle into.
The warmth rustic ambiance of the South beckons you and many of those wanting to escape the hustle and bustle of the urban jungle. Calathea Place is just ready for the taking with a revitalized milieu of luxurious amenities and modern tropical themed resort-like community facilities. DCMI Homes' Calathea Place is simply the smart choice for dynamic people, like you, who are in search for a secured, exclusive, and relaxed condominium living environment.
Live in style on vacation mode and enjoy the simple pleasures in tranquility in your own cozy little nook. Watch the sunrise in Laguna de Bay and catch the magnificent sunset view in Manila Bay every single day. Calathea Place's is a timely inception to Para?aque's growing demand for condominium communities as job opportunities in the southern metropolis grow by leaps and bounds.
Calathea Place's masterfully crafted structural plan boasts of premium resort-Inspired amenities that would surely impact your pursuit of a lifestyle change. Owning a 1-BR or 2-BR condominium unit at Calathea Place can be the wisest investment decision you can make as this hybrid 4-tower condominium development brings out the best of your lifestyle movement in the fast-paced world of urban living.
DMCI Developers Inc. sees its fair share of condominium buyers to be coming from the younger generation of professionals, start up families and home collector investors. Other than the established reputation as industry leader and the proven track record of prompt turn-over and delivery, DMCI has lived up to its vision and mission of providing high quality condominium communities at very affordable prices.
Like its predecessors, Calathea Place is a condominium community development in Para?aque that has exclusive above-standard facilities and amenities. All vehicle access to and from Calathea Place will run through a below-the-ground road network making the Calathea Place surrounding open spaces a safer place for children's activities and eco-friendly as less pollution from smoke emission is spread within the premises of Calathea Place.
Paranaque Calathea Place Building Features
Stand-by Power Generator for common areas
Single Loaded Hallway
Mail Room for each tower
Landscaped Garden Atriums
Electrified perimeter fence
4 Elevators each for Lavender and Marantina
1 Elevator each for Zebrina and Leonia
By owning a 1-br or 2-br unit at Calathea Place, you get to enjoy the resort-like lap pool, lounge pool and a separate safe pool for children. Other amenities, services and facilities include a Basketball Court, children's playground, a convenience store, water refilling station, fitness gym, roof Deck, and a game room. There are gazebos, landscaped gardens and cabanas scattered around the pool areas and the sky patios powered by DMCI's Lumiventt – a design technology developed to let natural sunlight in and fresh air breeze though in healthful circulation.
The main entrance gate has a 24/7 guard-on-duty while the whole complex is protected by an electrified perimeter fence. All four Calathea Place towers feature a lounge area, 100% back up power, landscaped atriums, mailbox room, passenger elevators and reception lobbies. Zebrina and Leonia Towers will each have 7 residential levels and 2-level basement parking while Lavender and Marantina Towers will each comprise of 12 residential levels and 2-level basement parking.
Paranaque Calathea Place Units
Total Number of Units : 1,032
Parking : 740 slots
Paranaque Calathea Place
UNIT AREA SIZE (Sqm)
1-BR Inner A 28.50
1-BR Inner B 31.00
1-BR Inner B 31.00
1-BR Inner D 34.00
1-BR Inner E 40.00
1-BR Inner D 37.00
2-BR Inner A 45.50
2-BR Inner B 47.00
2-BR Inner C 48.50
2-BR Inner D 48.50
2-BR Inner E 53.50
2-BR Inner F 53.50
Paranaque Calathea Place Unit Features
Provision for washing machine
Provision for telephone line connection
Provision for smoke detectors
Provision for cable TV connection
Provision for air-conditioning units
Paranaque Calathea Place Unit Inclusions
Individual mail boxes with keys
Individual electric meters
Bedroom partitions
Paranaque Calathea Place Indoor Amenities
Skylounge
Lounge Area
Gaming Area
Function Area
Fitness Gym
Bar
Audio-Visual Room
Paranaque Calathea Place Outdoor Amenities
Roofdeck Garden
Play Area
Lounge Pool
Lap Pool
Kiddie Pool
Jogging Path
Basketball Court
Paranaque Calathea Place Commercial Areas
Water Station
Laundry Station
Convenience Store
Paranaque Calathea Place Facilities
Shower Area
Security Office
Perimeter fence
Main Entrance Gate
Amenities
24-hour security
Find your perfect unit at Cathalea Place in Para?aque and indulge in resort-like living combined with the convenience of having everything within reach. Experience the ease and comfort of living in a secured and clean environment and be among thousands of satisfied DMCI Homes condominium owners who are truly enjoying life's simple pleasures!